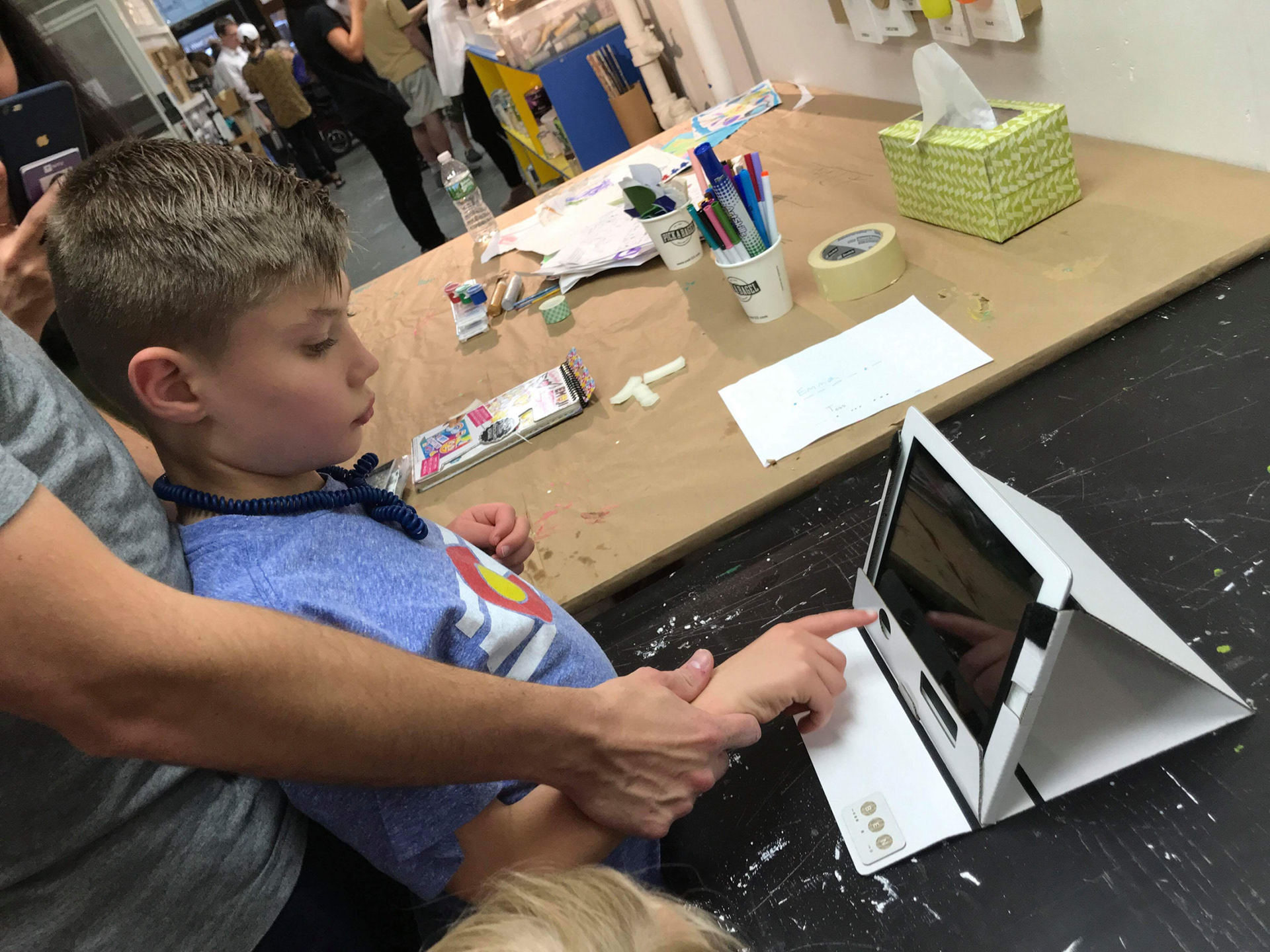 I collaborated with a team to create a morse code game for Ben, a 9 year old who loves trains, minions, and elephants. The game allows Ben to unlock his favorite videos by inputting the correct morse code sequences. The game aims to encourages Ben to continue to isolate his finger on a screen, learn letter-based patterns, independently play games, and have fun.
Link to the prototyped game
Project Overview
The goal of the game jam was to design games for five potential users of Morse code who are not able to enjoy games using standard controls, such as keyboard and mouse. To reach this goal, Google developed Gboard's Morse code keyboard allows users to customize the keyboard to their unique needs. It works in tandem with Android Accessibility features like Switch Access and Point Scan. It also includes Google's predictive text feature, allowing for quick access to complete words while typing. Especially for people who are differently abled, typing with Morse Code can save time and energy.
Based on Ben's physical needs and learning goals, we did not include the Gboard so that he could see as much of his favorite videos as possible and focus on practicing using button presses. However, the intent is still the same – to help a user learn Morse code to be able to enjoy games that meet their unique interests.
My Role
Interface Design and Development, Visual Design, Concept Development, User Testing
Design and Development Process

Stage 1 - Concept development
Our team met Ben and his mom at Adaptive Design. From them we learned Ben's interests and his learning goals. An Occupational Therapist helped ask important questions and context. We synthesized the major goals stated by Team Ben. Recording these allowed us to reflect on them while we designed the game.
Stage 2 - Design Prototypes & Research
We whiteboarded general ideas as a team, while always making sure any direction still met the interests and needs of Ben. We Sought out advice from experts such as professors specializing in accessibility, interaction principles, and game design. Afterwards, we made two rough prototypes of our main directions.
Stage 3 - User Testing & Production
Elizabeth ran a robust user testing plan twice. Once, with an Occupational Therapist from Adaptive Design to get feedback on learning and game principles. Then, with Ben and his parents to hear any thoughts on improvements or opportunities for nice touches.
Step by step, we built the game by pulling together a user flow, Javascript and HTML/CSS to enable interactions, individualized lessons, and beautiful and simple assets personalized for Ben.
​​​​​​​
Meanwhile, Sandy prototyped and finalized an iPad case for Ben. The goal was to hold up the iPad for Ben, so that he could focus on pressing the surface itself. We also wanted to create something physical around the morse code buttons, so that he could quickly know where to touch. The case has an elegant design made of one piece of cardboard which folds into a closed box or open stand.